Invited by Prof. Shaoming Dong of Shanghai Institute of Ceramics, Chinese Academy of Sciences (SICCAS), Prof. Ralf Riedel from Technische Universitat Darmstadt and Dr. Zhaoju Yu from Xiamen University visited SICCAS. An academic workshop was held on 17 December, 2015. Prof. Ralf Riedel gave two lectures entitled "Ultrahigh Temperature Resistant Ceramic Nanocomposites for Energy Conversion and Storage "and "Advanced High-Pressure Nitrides for Structural and Functional Applications". Dr. Zhaoju Yu gave the lecture entitled "Molecular Approach towards Advanced Silicon-Based Ceramics". More than 50 researchers and students of SICCAS attended the lecture, and they had a lively discussion with two professors.
Prof. Riedel is the Fellow of the American Ceramic Society as well as the European Ceramic Society. He is also a member of the World Academy of Ceramics and Guest Professor at the Jiangsu University, honorary Professorship at the Tianjin University, Guest Professor at the Xiamen University. Presently, he is Dean of the Materials and Earth Sciences Department at the Technische Universitat Darmstadt. His current research interest is focused on i) synthesis and structural and functional properties of advanced ceramics as well as on ii) ultra high pressure synthesis of new materials.
Dr. Zhaoju Yu is an associate professor and the deputy director of the Key Laboratory of High Performance Ceramic Fibers at Xiamen University. She is also a guest professor in the frame of an international scientist exchange program with the research group "Disperse Feststoffe" at the Materials and Geosciences Department of the Technische Universitat Darmstadt. Her research fields cover ceramic matrix composites, ceramic coatings and silicone polymer materials.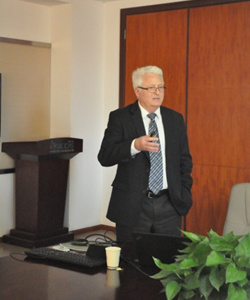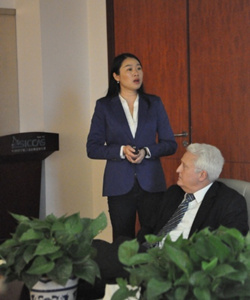 Prof. Ralf Riedel and Dr. Zhaoju Yu gave the lectures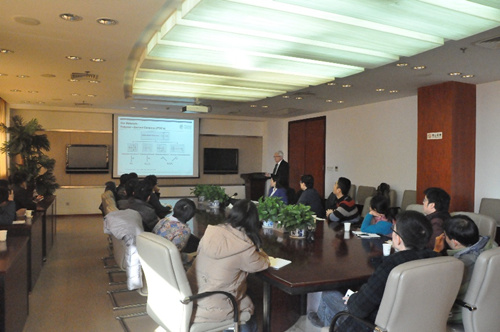 The workshop onsite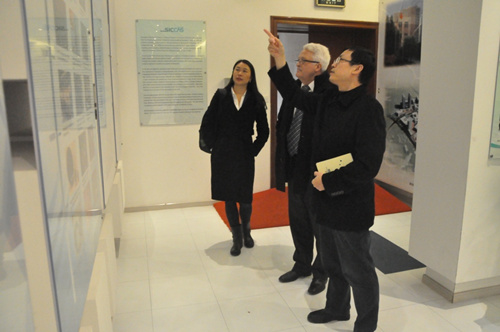 Prof. Ralf Riedel and Dr. Zhaoju Yu visited the SICCAS exhibition room