Invited by Prof. Xianlin Dong and Genshui Wang of SICCAS, Professor James F. Scott of Cambridge University visited SICCAS on 3rd June, and gave a lecture entitled 'Cylinder Stress in Nanodomains'.
Prof. Scott is a member of the Physics Department at University of Cambridge. He is recognized as "the father of integrated ferroelectrics" for his long-term contributions to the ferroelectric memory thin films attached to silicon or GaAs chips. Prof. Scott was awarded the Materials Research Society (MRS) gold medal in December 2008, the Jozef Stefan Medal from Slovenia in March 2009 and was elected as the academician of the Slovenia Academy of Sciences in 2011. His book, "Ferroelectric Memories", is cited the most within the research field of ferroelectricity by over 2950 citations and has been translated into Japanese and Chinese.
Prof. Scott gave a talk on his latest theoretical study on the nanodomain dynamics and domain wall in low dimensional nano-structures. The work shows the frontiers on the nanodomain behaviors, and attracts great interests of the attendees. The topic on the preparation of ferroelectric materials was discussed. Later, Prof. Scott visited the SICCAS exhibition hall.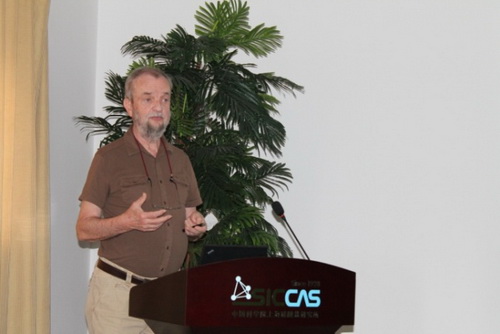 Prof. Scott gave the lecture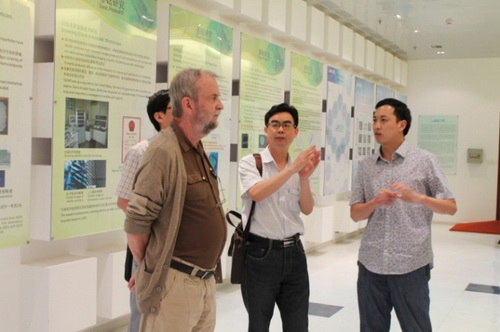 Prof. Scott visited the SICCAS exhibition hall
Key Laboratory of Inorganic
Functional Materials and Devices, CAS