The International Forum on Advanced Ceramics and Composites (IFACC-2013) was successfully held in Shanghai Institute of Ceramics, Chinese Academy of Sciences (SICCAS) from September 19 to September 21, 2013.This forum was sponsored by Chinese Academy of Engineering (CAE) and SICCAS, and organized by the Structural Ceramics Engineering Research Center and the State Key Laboratory of High Performance Ceramics and Superfine Microstructure of SICCAS. Three academicians of CAE: Prof. Dongliang Jiang, Prof. Jinliang Sun and Prof. Chuanxian Ding, as well as more than 50 scientists attended this forum.
Based on the development of design and engineering application of ceramic matrix composites (CMC), this forum focused on the following three topics: A. Design of matrix, interface and coating for CMC; B. Advanced technology for CMC fabrication; C. Application of CMC in the fields of aerospace, new energy and modern traffic, etc.
On September 20th, the researchers from SICCAS introduced their work on CMC and its industrialization, attracting great interests from participants.
On September 21st, after the welcome address delivered by Prof. Dongliang Jiang, over 10 world-renowned professors gave the invited talk on their latest research progress. Name list as follows: Prof. Peter Greil (UEN, Germany), Prof. Yi-Bing Cheng (Monash Univ., Australia), Prof. Jacques Lamon (CNRS/LMT-ENS Cachan, France), Prof. Emmanuel Baranger (LMT-Cachan, France), Prof. Rajendra Bordia (Clemson Univ., USA), Prof. Tatsuki Ohji (AIST, Japan), Prof. Roger Naslain (Univ. Bordeaux, France), Prof. Hua-Tay Lin(ORNL, USA), Prof. Frederic Monteverde (ISTEC-CNR, Italy), Dr. Mehdi Estili and Prof. Yoshio Sakka (NIMS, Japan), Prof. Bernhard Heidenreich (DLR, Germany), Prof. Walter Krenkel (Univ. Bayreuth, Germany), Prof. Shaoming Dong(SICCAS), Prof. Shunyan Tao(SICCAS) and Prof Guo-Jun Zhang (SICCAS).
IFACC-2013 provided a free platform for the participant to present their own options and proposals on global development of advanced ceramics and composites. During the closing remarks, Prof. Dongliang Jiang, on behalf of SICCAS, expressed his sincere thanks to all the participants, and he also expected to see the further cooperations and exchanges among the researchers within the world-wide range.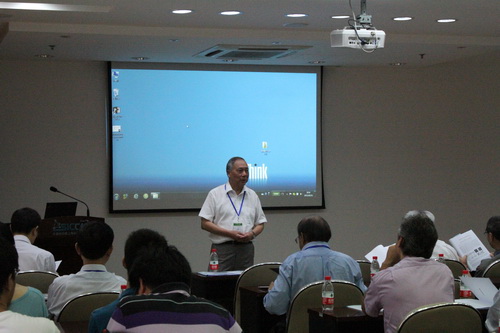 Academician Dongliang Jiang delivered welcoming address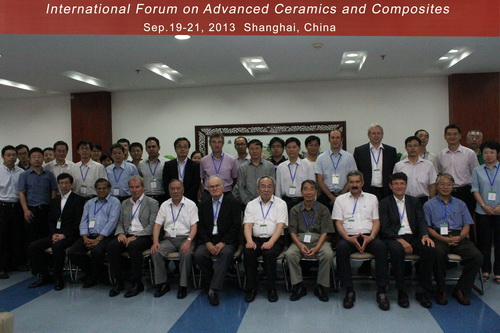 Group photo
Structural Ceramics Engineering Research Center
State Key Laboratory of High Performance Ceramics and Superfine Microstructure
SICCAS