Dr. Mrityunjay Singh, Einstein Professorship awarder, visited Shanghai Institute of Ceramics, Chinese Academy of Sciences (SICCAS) from March 31 to April 3, 2013 and carried out academic exchanges with researchers and students.
On the morning of April 1, the "Einstein Professorship" awarding ceremony was held in SICCAS, to grant the chief scientist of Ohio Aerospace Institute Dr. Mrityunjay Singh for his distinguished research work.
Prof. Dongliang Jiang, academician of CAS, delivered welcoming remarks to Dr. Singh. Prof. Shaoming Dong introduced Dr. Singh in brief. Prof. Longgeng Wang, the Party committee secretary of SICCAS, conferred Dr. Singh the certificate of Einstein Professorship. Later on, Dr. Singh discussed the role of materials in the sustainable development of society. He emphasized the critical need of novel materials and technologies in solving the global energy, environmental, healthcare, and other fields.
Dr. Singh is recipient of more than fifty major awards from all over the world. He holds important positions in the World Academy of Ceramics, ActaMaterialia, Inc., and the American Ceramic Society. Over the years, he has served on various prestigious award selection committees, nominating committees, and other judging panels around the world. Dr. Singh alsoserves as the international editorial board member of more than a dozen well-known international journals and scientific publications. He has published more than two hundred fifty papers,ten book chapters, edited/co-edited forty five books and proceedings.He is recipient of many honorary professorships, society fellowships, and honorary memberships from various institutions from all over the world.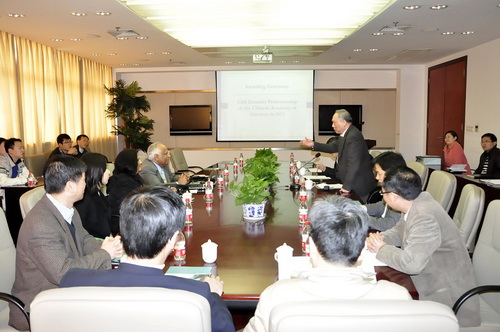 Academician Dongliang Jiang delivered welcoming remarks to Dr. Singh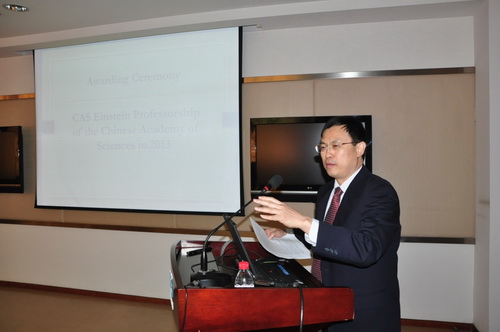 Prof. Shaoming Dong introduced Dr. Singh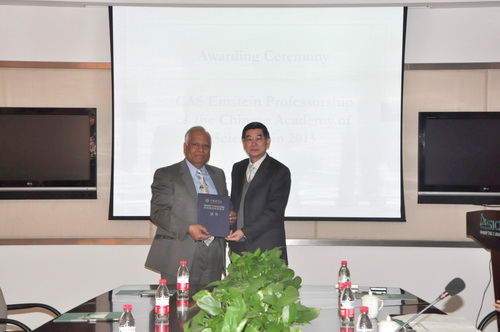 Longgeng Wang, the Party committeesecretary of SICCAS, conferred Dr. Singh the certificate of Einstein Professorship
Group photo