Prof. Scott A. Barnett of Northwestern University (Evanson, IL, USA) visited SICCAS from March 13-22, 2011. As a world famous scholar in the field of solid oxide fuel cells (SOFCs), he was awarded the visiting professor for senior international scientists of the Chinese Academy of Sciences. This was his first visit to SICCAS under the program, hosted by Prof. Zhongliang Zhan of fuel cell research group at CAS Key Laboratory of Materials for Energy Conversion.
During his visit, Prof. Barnett gave a seminar talk entitled "Electrodes for Reduced-Temperature Solid Oxide Fuel Cells" with emphasis on performance and stability of infiltrated nano-scale cathode materials, novel oxide anodes that form nano-scale precipitates, and oxide-supported cell designs. He had broad discussions with Prof. Zhan and Prof. Shaorong Wang on SOFC development issues and current approaches for component materials choice, electrochemistry, electrochemical diagnostics, cell and stack design. Both sides agreed to strengthen collaboration in low temperature SOFCs and novel membrane reactors.
Prof. Barnett obtained his Ph. D. in Metallurgy from University of Illinois at Urbana-Champaign in 1982. After his postdoctoral appointments at University of Illinois and Linkoping University (Sweden), Prof. Barnett took his present position at Northwestern in 1986. His current research interest focuses on thin electrolyte deposition, low temperature operation, electrode reaction mechanisms and hydrocarbon reactions in SOFCs. Prof. Barnett has published over 190 papers in peer-reviewed journals, including in Science, Nature and Nature Materials. He has 11 issued patents, and has been an invited speaker at many national and international conferences.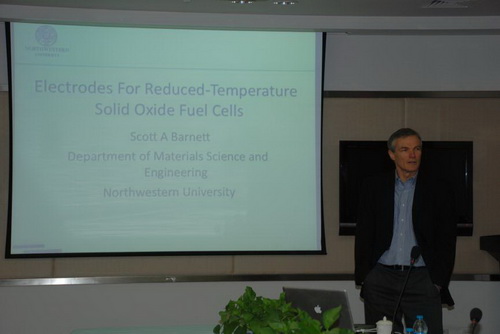 CAS Key Laboratory of Materials for Energy Conversion