Beginning with a vision of advancing the research and applications of thermoelectric materials, a few forward-looking scientists advocated and started the foundation of Thermoelectric Branch of Chinese Materials Research Society in 2009, with the support from Chinese Materials Research Society (C-MRS), and approval from Ministry of Civil Affairs, China Association for Science and Technology, and Shanghai Association for Science & Technology.
The opening ceremony of Thermoelectric Branch was held in Shanghai Science Hall on Dec. 24, and the first Board of Directors was elected by over 150 members of TE branch.
The first board is composed of 11 Board Members and 1 Secretary, Prof. CHEN Lidong (SICCAS) was elected as the Chair of Board, and Prof. ZHAO Xinbing (Zhejing Univ.), Prof. LI Jingfeng (Tsinghua Univ.) and Prof. TANG Xinfeng (Wuhan Univ. of Tech.) were elected as the Vice-Chair.
Following the opening ceremony and election, the first academic seminar of TE branch was held as well.

Board Members of Thermoelectric Branch of C-MRS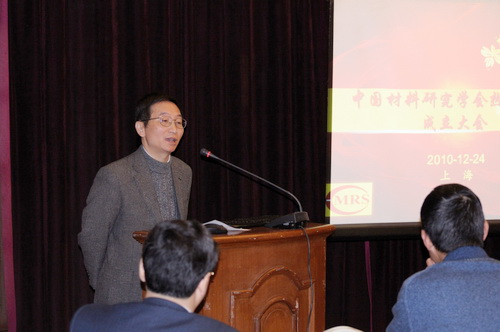 Prof. CHEN Lidong, Chair of TE Branch C-MRS