August 17th to 20th , Prof. Hanna Dabkowska and Prof. Antoni Dabkowski of Brockhouse Institute for Materials Research at McMaster University, paid an academic visit to SICCAS at the invitation of Prof. Haosu LUO.
Prof. Hanna Dabkowska,Member of the Executive Committee of International Organization for Crystal Growth IOCG and chair of the Crystal Growth and Characterization of Material Commission, is academically celebrated in growth and characterization of new single crystals of mixed inorganic oxides, in her talk of "Crystal Growth of Oxide Materials by Optical Floating Zone(OFZ)", she introduced OFZ technology and her investigation of crystal growth conditions and equilibrium in this solution, kinds of oxide crystals grown by OFZ were shown as well.
Prof. Antoni Dabkowski also shared his experience of crystal growth and characterization of SrLaGaO4、PZN-PT and Al2(WO4)3 by flux method or Czochralski method with the audience, by giving the presentation of "Examples of Oxide Crystals Which Are Difficult to Grow".
Up to fifty researchers and students were attracted by this academic activity from SICCAS, Shanghai Univ. and Shanghai Institute of Technology. After the discussion in oxide crystal growth, SICCAS achievements in piezoelectric crystals and scintillation crystals were presented to two professors as well, both parties were greatly impressed in each other' work, and would pay efforts to strengthen the Sino-Canada collaboration in these fields.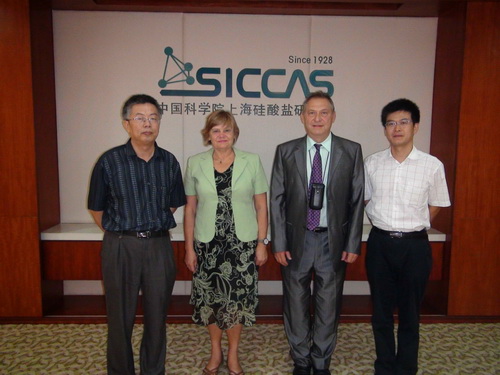 Prof. Haosu LUO, Prof. Hanna Dabkowska, Prof. Antoni Dabkowski, Prof. Yan LIU (Deputy Director of SICCAS)