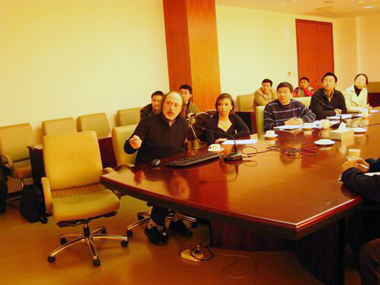 On December 9, 2008, at the invitation of Prof. Xianlin Dong and Prof. Genshui Wang, Prof. Denis Rémiens, from the CNRS(Centre National de la Recherche Scientifique)-IEMN(Institut de Electronique, Microélectronique et Nanotechnoloy) of France, visited SICCAS and gave a brilliant academic lecture titled "Materials for Integration in Microelectronic and Microsystems".
Prof. Denis Rémiens introduced the current international research hotspot, development trend and challenges of piezoelectric thin-film in microelectronic application field. He also gave a detailed presentation on the low-temperature growth control, interface behavior, passive device integration process and structural design of piezoelectric thin film as well as microwave phase shifter materials, which focused on the research achievements of his research group in piezoelectric MEMS and NEMS field, and the new collaborative research progress with SICCAS. Finally, he made a brief introduction of IEMN which subordinated to the National Scientific Research Center of France. The lecture aroused great interests among the students and researchers present, and they had lively discussions and exchanges with Prof. Denis Rémiens about some issues interested after the speech.
Prof. Denis Rémiens is a famous scientist in the field of ferroelectric and piezoelectric material, the main areas of his research involving the preparation of ferroelectric and piezoelectric film and device, structure and performance characterization, MEMS and NEMS device research, etc. So far, he has published more than 100 papers on core international journals and given many invited talks on international conference. His visit has a positive role in the international cooperation between SICCAS and CNRS-IEMN.