A novel method is reported for the manufacture of transparent polycrystalline alumina ceramics by means of orientating the optical axes of grains parallel to each other. α-Al2O3 (corundum) belongs to a trigonal system (usually described as a hexagonal structure with a=b≠c) and is optically uniaxial and birefringent. For example, the birefringent index is 0.008 at a wavelength of 600 nm. The double refraction is unavoidable when light transmits through a grain boundary in a randomly orientated polycrystalline alumina ceramics. Hence, it is impossible to prepare transparent alumina ceramics with randomly oriented grains because of the numerous grain boundaries. In the present work, a strong magnetic field was applied to assist the slip casting of green bodies. After a suitable sintering process, alumina ceramics with parallel optical axes were obtained and the optical transmission was increased significantly. X-ray diffraction showed that the grains have been successfully orientated in the alumina ceramics (Fig. 1). The in-line optical transmission is much higher than that of the randomly orientated polycrystalline alumina because the optical axes of grains are parallel to each other (Fig. 2). This method can be extended to other uniaxial crystals to produce polycrystalline ceramics with excellent optical qualities.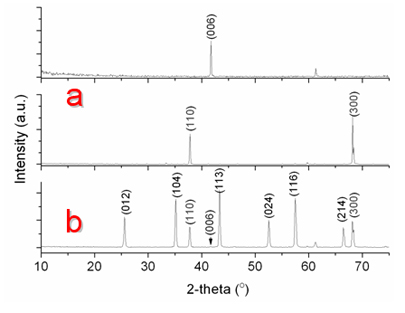 Fig. 1 X-ray diffraction patterns of alumina slices cut (a) perpendicular to and (b) parallel to the magnetic field, and (c) slip cast without a magnetic field.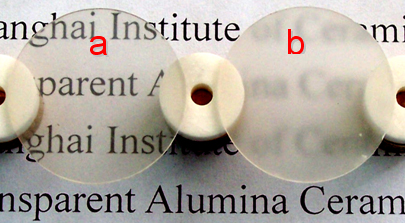 Fig. 2 Polycrystalline alumina ceramics slip cast (a) in and (b) outside a magnetic field. The samples are placed 8 mm above the paper.