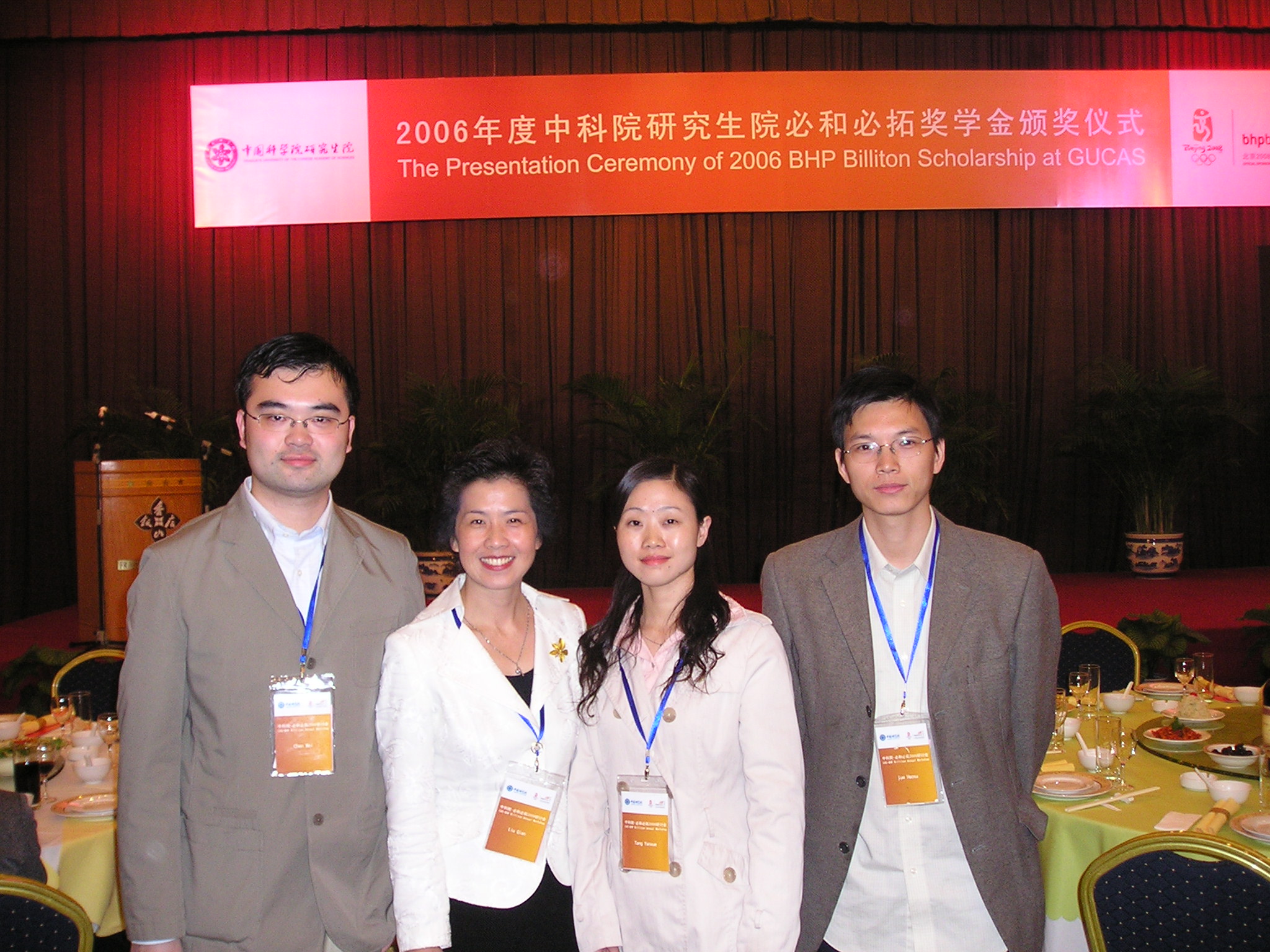 Embraced in red leaves of golden October, the Fragrant Hills presents a beautiful vision of autumn and a joyful aura of achievement. From Oct.18th to 19th, the Award Ceremony for GUCAS-BHP Billiton Scholarship 2006 and Bilateral Symposium was held in Fragrant Hill Hotel in Beijing. 25 graduate students from 21 institutes won the awards. Yanxue Tang, whose supervisor is Prof. Haosu Luo, and Wei Chen, whose supervisor is Qian Liu, from SICCAS won the awards, and it's the second time for Yanxue Tang to receive the honor.

As the world's largest diversified resources company from Australia, BHP Billiton ranks at the front among world top 500 companies. Since 2005, the company and Graduate University of CAS have started the program of GUCAS-BHP Billiton Scholarship, which selects excellent graduate students as the awards winner and their supervisors as supervisor awards winner. The winners were firstly chosen as nominators by respective institutes, then approved by the evaluation committee of the awards, and finally announced on award ceremony.

Yanxue Tang and Wei Chen, graduate students from SICCAS, along with Prof. Qian Liu and Xiangyong Zhao, representatives of supervisors, attended the ceremony, and communicated with Prof. Shizhuang Ma, Vice President of Graduate University of CAS, Mrs. Megan Clark, Vice Chairperson of BHP Billiton, Mr. Bob Watts, former Chief Technology Officer, Mr. Jianjun Tian, Technical Director of BHP Billiton (China) and other managerial and technical experts.

The acquirement of the awards demonstrates the achievements of gradate student training and education of SICCAS, which put great emphasis on encouraging young students, providing them space and opportunities for development.
Division of Graduate Students