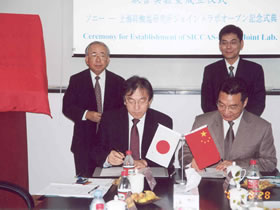 SICCAS-SONY Joint Laboratory was officially founded by Shanghai Institute of Ceramics CAS and SONY Corporation on August 28 2006. The joint laboratory will focus on collaborative research and development concerning energy materials.

A delegation of SONY Corporation led by Mr. Shizuo Takashino, Vice President of SONY Corporation and Mr. Osamu Kumagai, Director of Sony Materials Laboratories, attended the Establishment Ceremony held in SICCAS. The delegation of 14 guests was warmly welcomed by Prof. Erwei Shi, Vice President of CAS, and Prof. Hongjie Luo, Director of SICCAS. The Signing Ceremony for Cooperative Agreement and Unveiling Ceremony of the joint laboratory were also held.

At the Establishment Ceremony, Prof. Erwei Shi expressed cordial welcome to the SONY delegation and congratulations to the establishment of the joint laboratory. Vice President Shi also said that, China is a developing country lacking of resources with a large population, and China's energy consumption, with 60% depending on coal, is even higher than that of Japan, so China's energy configuration is still irrationalized. Currently energy consumption is an issue of common concern, so cooperation of developing new energy sources is quite promising. He highly valued the cooperation started from energy source development. Although many difficulties encountered at the beginning, the joint laboratory was finally established with joint efforts from both parties. Prof. Erwei Shi expressed his hope that cooperation will be strengthened further and new research results will be obtained on the basis of cooperation.

Director Hongjie Luo reviewed cooperation history between SICCAS and SONY. With support and help of CAS leaders and joint efforts of scientists from both parties, the joint laboratory was officially founded. Considering strong techniques of SONY Cooperation and solid research foundation of inorganic materials of SICCAS, the cooperation will give full play to advantages of both two parties, which is in accordance of common interests. SICCAS will strengthen its efforts to support the joint lab with stronger and better talents, properties and finance. He also wished the joint laboratory could have a bright future.

Vice President Shizuo Takashino expressed his satisfaction with SONY's investment and cooperation in China. SONY also hopes to expand research and development in China, especially in the field of development and application of energy sources. China is a large country with various energy sources, and Chinese government puts much emphasis on the development and application of energy sources. Mr. Takashino promised to support the joint laboratory in full sail. Director Kumagai said he contemplated the project of joint laboratory for a long time and hopes to perform more work in this field. Although it is the beginning of official cooperation, Director Kumagai hoped that the project will be beneficial to energy application of both parties and the cooperation will be a complete success.
After the Establishment Ceremony, the council of the joint laboratory held the first council meeting, on which the operation planning of the joint laboratory was discussed and then approved.